Is it possible to use affiliate links on YouTube?
Though there is no definitive answer for the same, but things have evolved and presently there are more examples of individuals intelligently using affiliate links on their content or channel on YouTube.
What are Affiliate Links?
Affiliate links are a way for a company or organization to track the personal link. In this situation, when anyone makes a purchase on the website of that company then you will get a percentage commission of the sale.
For example, if you are using Amazon link on your video and someone makes a purchase watching your video and using the link then you will get a small percentage of the sale as commission.
Why Use Affiliate Links?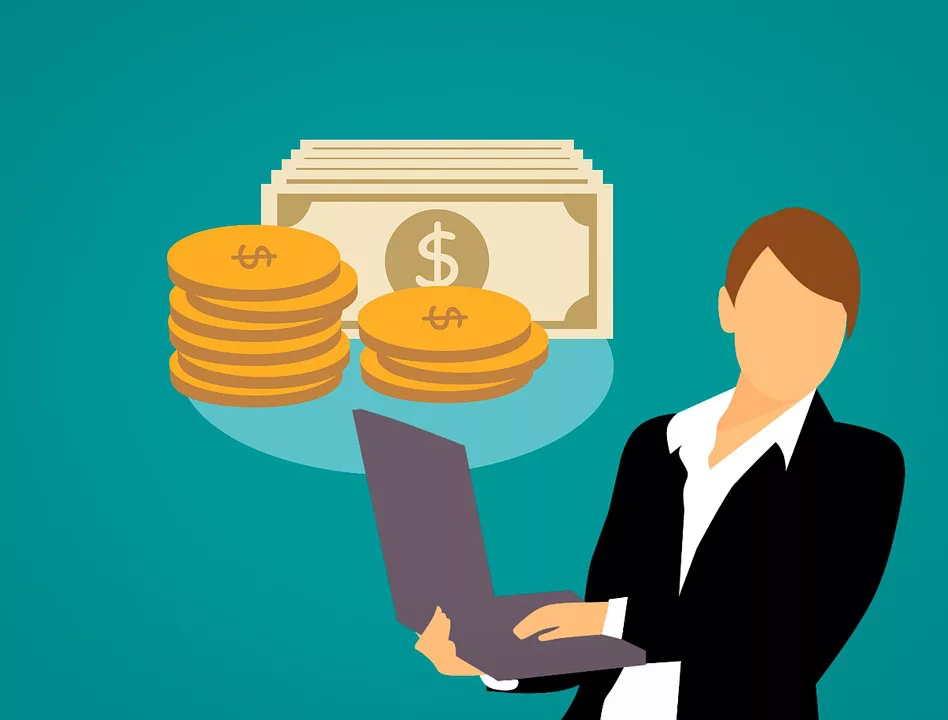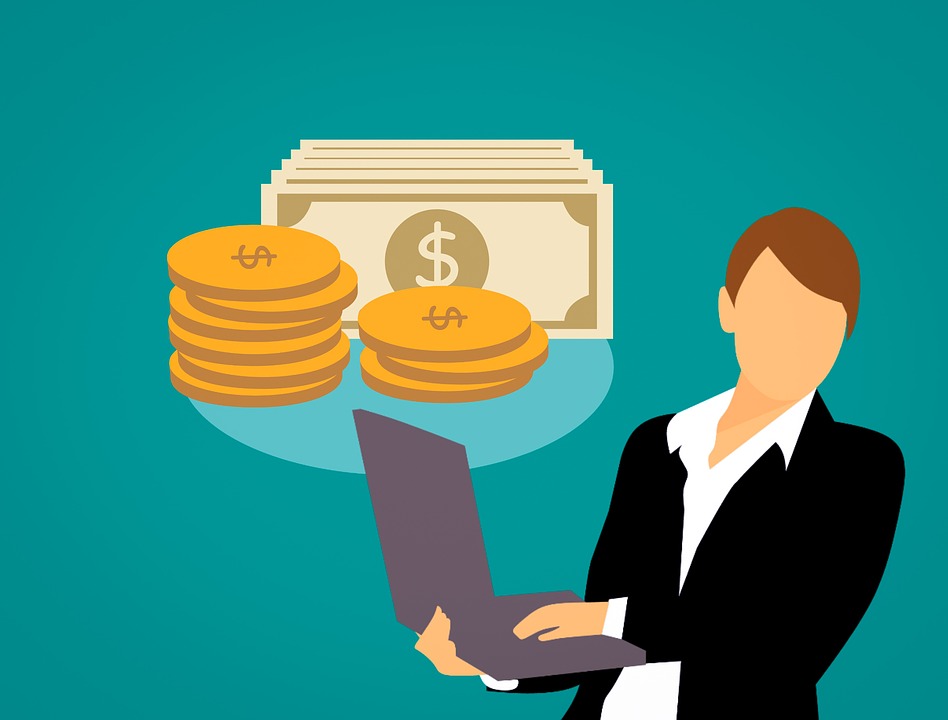 If used in the correct way, then affiliate links in YouTube serve as an incredible way to offer more valuable content to users. At the same time, it can help you earn some additional revenue. Often it is stated in numerous reports at different portals that affiliate marketing is an excellent way to generate extra affiliate revenue, which can be a huge amount.
When you include affiliate links to present your views and use it in your videos then there will more chances to track a purchase. If a person is making a purchase with your affiliate link, then you will receive a certain amount of commission.
How do you find Affiliate Links?
It is not just Amazon to look for getting an affiliate link. Almost every single company or brand has an affiliate program, like Target, Walmart, Best Buy, and more.
Definitely, Amazon is one of the biggest one and is the easy one that most of the people like to use. But there are more other places like Media.net, ShareASale.com, Digital Ocean and more that offer affiliate networks. Hence, you can get approval for their service and apply for those distinct ones.
Providing affiliate marketing links can help you enhance the quality of videos, offer more value and a better user experience to viewers. Above this, it offers you the chance to earn more affiliate commissions.
Below we offer you the best practices for using affiliate marketing on YouTube.
Best Practices to Use Affiliate Links on YouTube
#1 Offer Valuable and High-Quality Content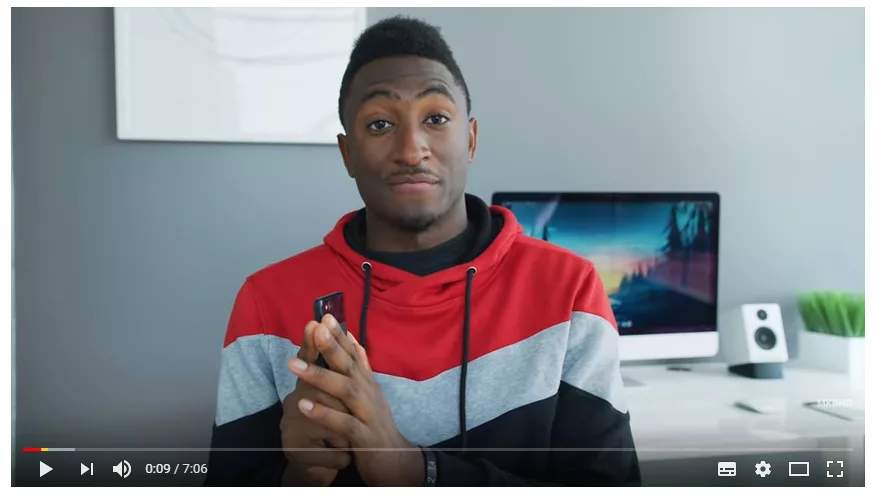 Before you plan using affiliate links in your YouTube content, it is first important to create a successful YouTube channel. This can be done offering high-quality and valuable content.
One of the most imperative steps is to create well-edited video and audio content that is of high-quality. Even the review of a product must be detailed and honest. It is because this is the determining factor that whether someone will buy the product or not.
There were times when consumers use to buy a product based on its fancy look and attractive packaging. Times have changed and now consumers are interested to buy products that fit their needs. Furthermore, they are now flocking online, before they decide to buy a product and carry an in-depth research. Watching product reviews and videos have influenced the buyer's decision to a great extent, and there is a large opportunity to capitalize on the research phase with YouTube channel.
The modern consumers are always looking for reviews that are genuine and that they can trust to assist them to make a best possible choice on products they require. It is extremely imperative to identify something that they truly want and offering them a detailed review is the best way to build trust among them.
This is an excellent way to place affiliate link. If your users are convinced with your review then they will be interested to buy the same product and having the link right there will help them reach the product in the easiest way.
#2 Use Affiliate Links at Places When it makes sense
There was once a time when affiliate links were merely simple links. But now the purpose of having links in the content has changed ad they now carry more weightage and value.
With the help of affiliate links, it is possible to purchase things easily. Make sure to not abuse your online viewers by filling the page with pointless and spammy affiliate links. All this can hamper the overall quality of your video. Be sure to generate quality content and include affiliate links only when they can add more value to the content. It is important to create a perfect balance and make your viewers happier so that you earn more commission.
For this, you can check for various high-quality videos on YouTube and look for places where they have introduced affiliate links.
#3 Use Genuine and Honest Affiliate Links
Another best practice to follow when using affiliate links on YouTube is to make sure that you use only honest and genuine affiliate links.
When you add an affiliate link in the description then you must mention somewhere in the description that this is an affiliate link. The description can be in the form of disclaimer at the bottom of video description. You can even add as a parenthetical notation offered close to the link. In addition to this, make sure to say what the product is about. No one likes to being tricked and hence is searching for genuine information.
Being honest also means that you must talk about that the video contains paid promotions under the 'monetization' tab. This also lest YouTube know that you are making money from the content.
#4 Add Affiliate Links on Your Website, Social Channels, and YouTube Page
There are numerous YouTube videos including links to their sites and Facebook pages in the description box, but they don't include any link to the product they are reviewing or discussing.
If an affiliate link is adding value to the content then offer people the opportunity to click on it and use it. But if there is rich content on your website, social channels, as well as YouTube channel then this can be complemented well by affiliate links. All you can do is add links to your social channels and website in the place.
This is a great way to not just enhance your business promotion but also to drive traffic to your site. The key to remember is that it is not important to add links, but it is vital to add useful links that can make your content better and great.
#5 Know About Your International Viewer Base
An important best practice to remember is to know about your audience. It is essential that you understand the audience and then make necessary attempts to gather mass attention. This includes movies, books, TV shows, music, and YouTube videos.
You can maximize your return through affiliate links by including them in the YouTube content, knowing what is crucial. If you are not aware of your audience and don't know how international your viewers are, then adding a suitable link will be a highly difficult task.
By knowing the geographical distribution of your audience, it would be possible to influence the discussion about your product or the link about a product that you have added. Also, it would disclose that you are not sending all your international clients to the same online platform or storefront, like iTunes, Amazon, and more.
If your YouTube channel hosts a significant international following then sending each fan to the same storefront will offer them with a better experience. Also, it can open up an entirely novel revenue system by earning commissions from the international storefronts.
Astute Links allows you to target your international viewer base to desired storefronts to generate the best revenue possible. Don't forget to sign up and get started with us!
#6 Make sure Your Channel on YouTube is verified
While this is an important thing and most of you have already done it, but if your channel is still not verified then get it verified at YouTube.com/verify. After this, you need to fill out the complete profile page and enable monetization as well as paid content options.
#7 Do Practice Cross Posting Your Links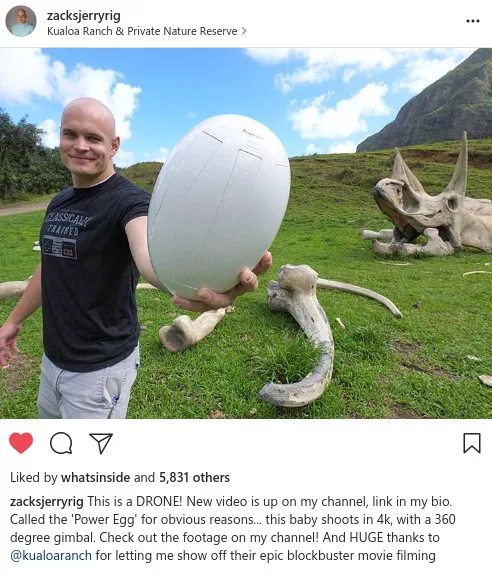 You might not be aware, but it is actually true that you can post the affiliate links on Instagram, blogs, Pinterest, Facebook, and even Twitter. Instagram allows adding one link in the bio at a point of time, so keep changing it regularly with the posts. In addition to this, make sure that you add the link in relevance to the product you really adorn. You can add the same link on Pinterest by clicking on edit mode for a Pin. But again you can add one link per pin.
This way, you can post the links across multiple channels, which is the best way to broaden your reach and have more followers on Instagram, YouTube, and more. The content you upload and post the link must be unique and to some extent creative.
#8 Add Product Links close to Product Names
Out there are numerous videos on YouTube where the YouTuber is listing out all the products, discussed and suggested in the video. Yet they don't share the affiliate link to where these products can be purchased from.
If you too are doing the same thing then stop it right away. If you have listed out all the products then it is just a matter of seconds to add the affiliate link that is related to it. This is a major practice to follow that can add great value to the website content.
#9 Add Product Links to the Top of Video Description
The audience out there is very busy and is searching out for channels and information that is valuable and easy to find. Don't let your audience scroll down too much to get the desired information. An easy way out to this problem is by placing your links higher up and offer them have a better chance of clicked on.
#10 Include Store Links to the Top Performing Storefronts
Over time you would be able to identify the storefront that is offering you with the most money. Once you are able to do that, then you can create a store link.
It is possible to generate a store link by just creating links and selecting store links. Then select the store and there you will be able to get the desired results. With the store link, it would be possible for your audience to grab all coupons and deals that are presently available at the store. When they will shop through the link on the page then you will earn a commission.
#11 Insert Department Links with the Demographic
Including department, links is another great way as they show all the deals and coupons within a particular category. For example, if your niche is related to beauty then you need to select beauty and generate a link that will reveal your audience about the best deals in that section. Additionally, you can mention the name of the store. There are numerous departments offering such service and you can select the most appropriate one.
#12 Use Shorten Links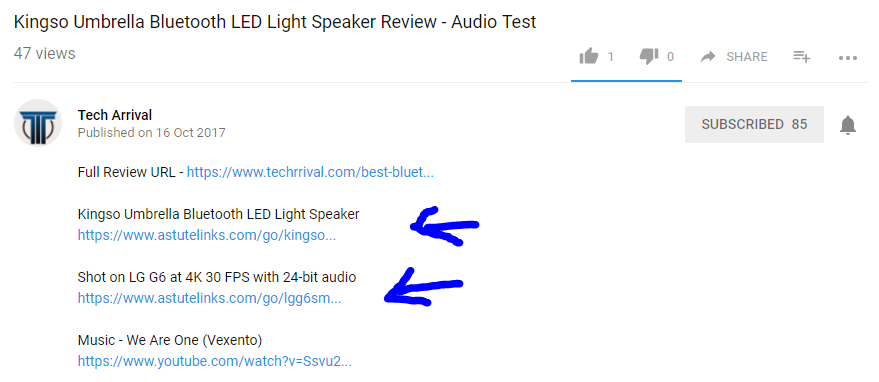 Most of the affiliate links are too long and messy. This can mess up the YouTube video description and would not attract users or audience to click on.
You can include a link on your site to redirect the affiliate link traffic for this you can use a link that is shortened. You can redirect the URL from your domain to the affiliate advertiser. I would always suggest you to use a 3rd party service to reduce the links, such as astutelinks.com, bit.ly. With the help of your website link, it is possible to gain the trust of the audience and at the same time let viewers know where the link will take them. Besides this, it means that you have complete control over the link.
#13 Avoid Misleading the Viewers
While this is something that you must practice without saying but it is essential that your video recommendations must not be misleading.
Sometimes a promotion, which is available for free, can be misleading. Another example is when you are promoting a thing that does not fit into the description, or when the video review of the product is not reliable and honest. All this can mislead your viewers. Hence, it is essential that it would wise to outright the state and ensure that your link is an affiliate link.
#14 Avoid Being Spammy
It is essential that your video content is valuable and offers something useful to the viewers. Otherwise, the content can be spammy.
Videos that are spammy cannot be removed or flagged. One best way to add value to the content is by making how-to use product videos. This can be done by reviewing it, comparing the same to other products, and more. Simply showing up an ad or statements for a product is not adding value to the content. Also, if your video is not offering any valuable content to the audience then you must not include affiliate links to it. As this would also be considered as spam.
Why is it Fine to Use Affiliate Links in the YouTube Content?
When you are using storefronts affiliate links in your YouTube content then this is not a form of public information. Hence, you are not showcasing any private information to the public.
One great way is to check for the storefronts rules and policies before you use their link in the content. Other than this, some important things to consider are:
You should only post links in the description after you have a good subscriber base (We consider adding links after you have at least 500 subscribers).
If there are any specific questions regarding your channel and posting affiliate link of a company, then it is better to talk to their customer service. This will help you know that whether the company is interested to be associated with your content or not.
As far as YouTube is concerned, you must also check its terms of service in order to avail better understanding of the subject.
One more reason that makes affiliate links acceptable is that highly successful channels feature affiliate links.
Also, every individual benefit from the valuable content, which is enhanced by affiliate links. In return, YouTube gains viewers and videos that can be monetized for increased revenue.
Conclusion
Whether you include affiliate links or not the most important thing is to keep generating great content. Enrich the world's biggest video sharing website with your rich and valuable work to add more value to the viewers. While affiliate linking definitely adds value to a content, but only if it is used wisely and aptly!
Here are the examples of successful YouTubers:
Marques Brownlee – https://www.youtube.com/user/marquesbrownlee
JerryRigEverything – https://www.youtube.com/user/JerryRigEverything